In 2015, Purezza Brighton began operations on St. James' Street. It started as a little pizzeria with a huge dream: to become the first pizza joint in the UK made entirely by plants. After a few years, that small pizza has grown into a successful national restaurant chain and a producer of vegan cheese with a record number of awards.
There are currently Purezza locations all throughout the United Kingdom. It has locations in London, Bristol, Brixton, and Camden, and a second one is opening in Manchester's Northern Area. Each of these locations has luxury private dining rooms.
Awards
Past recognitions for Purezza include National Pizza of the Year in 2018, Vegan Restaurant of the Year in 2020, and the World Pizza Championships in 2019.
Ambience
In Camden, if you decide to sit down, you'll do so at one of their tables made of repurposed and reclaimed materials, such wood, stone, or terrazzo. Don't forget about the seat itself, though! These are made by combining inventive plant leather made from recycled plastic bottles. There is much to think about. The walls are plastered with innovative hemp plaster. They were painted with water-based paints that are extremely eco-friendly. The same environmentally friendly construction methods were also used to create a brand-new bar area. Again, the terracotta tiles used were handmade and constructed from reused terracotta. Beautiful ambient lighting that uses the least amount of energy possible surrounds the bar and the rest of the restaurant.
Purezza is the perfect location for any delightful night out, including birthday or engagement parties, anniversaries, graduations, wedding receptions, and company outings. Take pleasure in excellent vegan pizza prepared in the Traditional fashion, delicious sides, and wonderfully matched beverages or organic wine!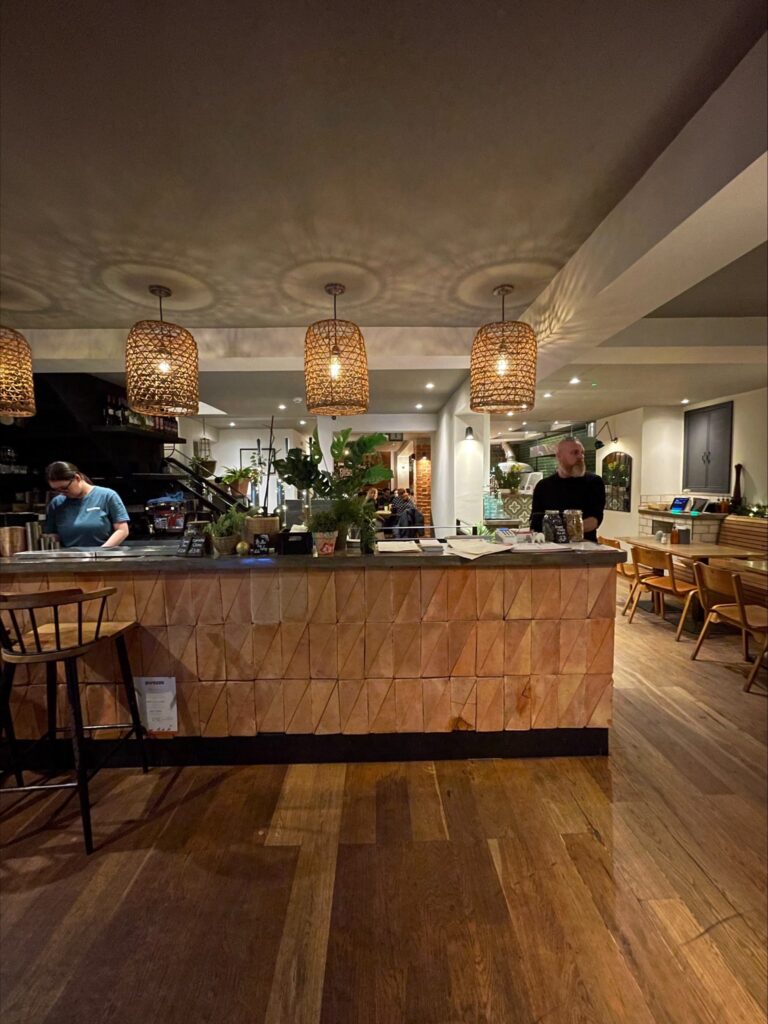 Menu
Additionally, there is a gluten-free menu and a drinks menu with wines, craft beers, and cocktails. You can order any of these things through the nation's local delivery services.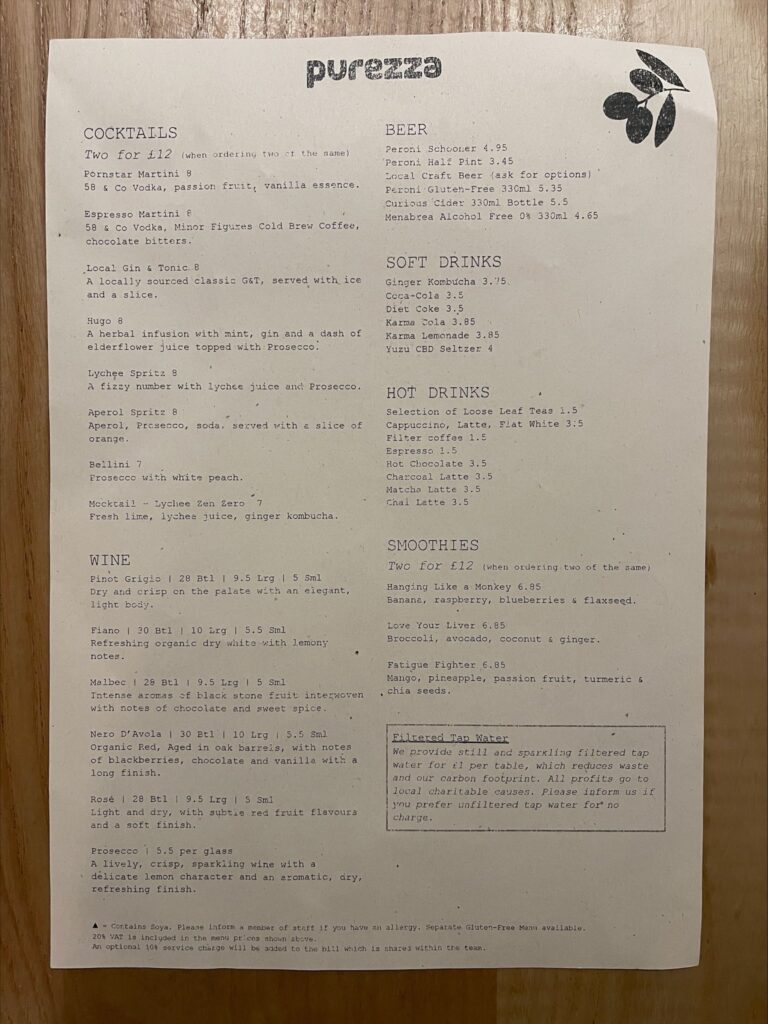 Seasonal specials and innovative new pizzas are regularly added to Purezza's menu. But for the time being, there is a Christmas menu featuring appetisers, entrées, and desserts, as well as a selection of drinks.
Furthermore, a vegan margarita is proudly available on the Purezza menu. Here, the "secret ingredient" in vegan mozzarella can rival with anything prepared with cow's milk. The menu offers a number of meat alternatives, such as a classic "pepperoni" and meatball marinara. If trying to be someone you're not isn't your thing, there are plenty of pizza alternatives that just celebrate vegetables in all their glorious variety.
Drinks
A wide variety of cocktails are available, including well-known varieties like the Aperol spritz, espresso martini, Hugo, etc., as well as seasonal specialties like the Christmas Daiquiri and hot beverages like spiced gingerbread latte. A nice selection of beers, wines, as well as all the delectable mocktails, soft drinks, and hot beverages, round out the list.
Dessert
Gelato, a chocolate brownie with chocolate sauce on top, cheesecake, ice cream sandwiches, and a raw vegan tiramisu are all available at Purezza. A pizza crust calzone with pistachios, walnuts, and creamy hazelnut chocolate inside is called a chocolate calzone.
Along with being entirely vegan, 98% of the menu is either gluten-free or has gluten-free alternatives. Along with pizza, traditional Italian dishes like lasagna and totally vegetable-based cuisine are also offered. Have a significant birthday celebration, a holiday, or other pleasant hours? For everyone of them, Purezza offers fantastic discounts and promotions.
Purezza is a terrific all-arounder for those with a growing family after the baby and puppy boom. Children under the age of 11 can dine for free on a special kids' menu because they enjoy Italian food (when accompanied by a paying adult).
Bring your friends together and get ready to rock!